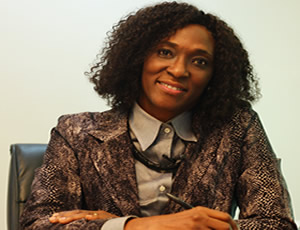 DR. MRS AGNES YEMISI ASAGBRA is a core scientist and researcher with years of experience in contributing to the technological advancement of her country. She is a leading proponent of science and technology as a veritable tool in driving the economy of the country, through innovations and scientific research. She is an advocate of impactful mentoring of young and upcoming scientist.
She is a specialist in the area of quality and food safety with a strong passion for human capacity development and purposeful leadership.
Her Motto: Excellence in every challenge or task.
Dr. Yemisi Asagbra holds a Doctoral  Degree in Food and Industrial Microbiology from  Nigeria's premier university – The University of Ibadan in 2004; a Master of Science Degree in ….. from the University of  Benin in 1987  and  a First degree in ……  from the University of Lagos(1983).
She started her career at the Federal Institute of Industrial Research Oshodi, Lagos, Nigeria on the 4th of January 1988 as a Research Officer I. She was deployed to the Fermentation Unit of the then Applied Biology Department of the Institute, which is now known as the Biotechnology Department. She rose through the ranks until she became a Deputy Director in the Biotechnology department in …., a position she occupied until 15th of July 2015, when she was appointed as Director and Head of the Production, Analytical services and Laboratory Management Department (PALM).
In the course of her career, Dr. Yemisi Asagbra worked on a variety of projects which has contributed to the technological advancement of Nigeria. Such projects include:
ALCOHOLIC FERMENTATIONS.
a. Production of table wines from locally available fruits, vegetables and flowers.
b) Production of ales (dark and light) from sorghum malt.
 ANTIBIOTIC FERMENTATIONS
a) Production of Oxytetracycline
b) Production of Tetracycline
c) Production of Bacitracin
 FOOD  FERMENTATIONS
a) Upgrading of the local production technology of Ogiri (a food condiment)
b) Upgrading of the production process of Kununzaki (a lactic acid fermented ready    to drink beverage)
QUALITY SYSTEMS (HACCP) / QUALITY CONTROL AND ASSURANCE
a) Soy-ogi and Soy- yoghurt
b) Ice cream
c) Fruit juices
d) Ogiri (A fermented condiment)
e) Kunun-zaki             
f) Instant pounded yam
g) Confectionaries e.g Cakes, cassava bread.
h) FIIRO Palmwine
i) Mushroom and other FIIRO food products.
 WASTE UTILIZATION
a) Animal feed supplement Productions
 i) Feed antibiotic - oxytetracycline
 ii) Feed Enzyme- Phytase
b) Mushroom
 i) Spawn production
 ii) Mushroom cultivation
PROFESSIONAL MEMBERSHIP
1) Nigerian Society for  Microbiology (NSM)  Member
2) Association of Industrial Microbiologists of Nigeria (AIMN) Member
3) Nigerian Institute of Food Science and Technology (NIFST), Fellow
4) American Society for Microbiology (ASM), Member
5) International Register of Certificated Auditors (IRCA) (Certification number 6009162)
6) Institute of Public Analysts of Nigeria  (00897) 

 CAPACITY BUILDING TRAININGS ATTENDED
*ISO 17025:2005 Quality Management Systems (June 7th – 8th June 2016)
*Health, Safety and Environmental Advisers/ Managers Workshop: Safety Management Leadership- Your Role in Achieving Safety Excellence. ( May 13th -14th May 2015)
* IQCS Training: Social Accountability (SA 8000:2008),2013
*IQCS Training: Food Safety Management System (ISO 22000:2005) Internal Auditors Training. 2012
*IQCS Training: Quality Management System (ISO 9001:2008), 2012
*Governance and Food safety in international food chains (March 12th- April 2nd 2011) Wageningen UR Centre for Development Innovation, Netherlands (NUFFIC Scholarship)
*Food Safety Management System (ISO22000) Implementation training course (Sept 26th-Sept 30th 2011) SON Training for Implementation of HACCP to Food Systems 2011.
*Training of trainers (2010). Organized by FIIRO.
*Senior Management Programme on Managing Research and Technological Organization (RTOs). Malaysia 2009
*Molecular Biology (Principles and protocols of molecular Biotechnology laboratory) May 2002
*Capability Building for Research and Development in Quality Assurance and Fermentation Technology for Traditional African Fermented Foods 1995-1999.World Association of Industrial and Technological Research Organization (WAITRO)
*In-Plant Group Training Programme in the field of Fruits and Processing (Sept 14th- 29th Oct 1995) UNIDO and Turkey Government
CAPACITY BUILDING TRAININGS  FACILITATED
• Training Workshop on "Driving a culture of food safety management system in manufacturing industries through GMP and HACCP fundamentals." (May 2015)
• HACCP training for Regulatory bodies (e.g NAFDAC, SON), small and medium scale entrepreneurs (2000) 
• Wine training workshops for medium and small scale entrepreneurs at FIIRO (1990-2000).
• Training workshops for medium and small scale entrepreneurs at FIIRO on quality systems (HACCP) for food related workshops.(2009 –Till Date)
• Principles of the HACCP concept: Technology Incubation center Agege, Lagos (2010)
• Application of HACCP in improving the quality of finished products: Prerequisite Programmes  (PRPs)  AIMN symposium (Sept 2011).
COMMITTEE MEMBERSHIP IN FIIRO
a. Project Monitoring Team (Vice –Chairman)
b. Ethics (Chairman)
c. FIIRO Open Day Committee(Member)
d. World Bank Implementation  (FIIRO) (member)
e. Publicity  (FIIRO) (member)
f.  FIIRO's 50th Anniversary(member)
g. FIIRO - Re-engineering(member)
h. Office allocation committee FIIRO(member)
i.  Best worker Award (Vice – Chairman)
j.  FIIRO Organogram(member)
k. Research and Development committee (member)

Additional professional activities include external examiner and exam moderator for a higher institution, presentations of seminars, organizing  workshops, consultancy,  resource person at trainings, workshops and industries,  member of committees outside  FIIRO e.g. Standards Organization of Nigeria (SON) Technical committee on non-alcoholic and alcoholic beverages, Nigerian WG-experts on sustainable and traceable cocoa (ISO 19381), NAFDAC etc.
She is an ardent Quality Management System professional who is presently a co-auditor with an international audit firm based in Germany- DQS GmbH on Quality Management System (QMS) and Food Safety Management System (FSMS).She has been involved in several QMS and FSMS audits of local and international companies in Nigeria.
Her other specializations and skills include Project Planning, Management and Monitoring, Implementation of Food Safety Management System (ISO22000) and  Quality Management System (ISO9001), Hazard Analysis Critical Control Point (HACCP), Good Manufacturing Practices (GMP), Good Hygienic Practices (GHP), Upgrading of traditional food technology, Post-harvest Processing and Research commercialization, Risk Analysis & Crisis Management, Research Administration, Research Communication, Excellent Communication and presentation ability skills.
AWARDS / MERITS
African Women in Agricultural Research and Development (AWARD) Mentor (March 2015)
Ø GRATITUDE Project (EU Project) - The use of Cassava and Yam peels in the cultivation of edible mushrooms.(2012)
Ø World Association of Industrial and Technological Research Organisations. (WAITRO) / ISESCO - Food Security and Muslim Women Empowerment through Technology     
Ø Dissemination on Standard Kunu Production Techniques for Local Consumption and Export (2012).
Ø World Association of Industrial and Technological Research Organisations. (WAITRO) -  HACCP system for African fermented foods: Soy-ogi.(1995- 2000)